Just Ducky Publishing

Presents:

Retriever Training for Spaniels

Working with soft-tempered, hard-headed, intelligent dogs

by Pamela Owen Kadlec
ISBN - 0-9717103-0-9
copyright 2002

New Release Date - 6/15/05
No text changes - new photos and updated statistics

Original Event tie-in: Boykin Spaniel Society National Hunt Test
April 11 - 14, 2002
Tyger River Ranch - Buffalo, SC
Where HRCH UH Curlee Gurlee won her 3rd National Open Championship!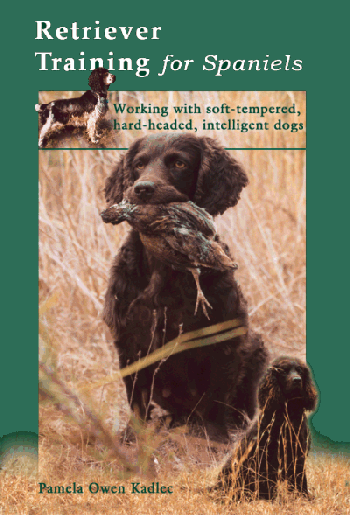 Midwest Book Review (August 2002 issue):
Retriever Training For Spaniels: Working With Soft-Tempered, Hard-Headed, Intelligent Dogs
by Pamela Owen Kadlec
is a highly practical, "user friendly" guide to the art and science of teaching Spaniels to be effective retrievers and gun dogs, with special emphasis on the Boykin Spaniel. Individual chapters cover the difference in temperament between Spaniels and Labrador Retrievers, how to best use positive reinforcement and "clicker" training on a Spaniel puppy, things that must be taught to a puppy before it reaches six months of age, and a great deal more. Black-and-white photographs enhance and illustrate this clear, methodical, and straightforward text of this strongly recommended and specialized instruction book.
---
Martin Deeley
International Gundog Workshops
Author, Writer, Commentator, International Gundog Trainer
Montverde, Florida and Poole, England

"This is a book for both novice owner and those who have trained spaniels before and now wish to improve their abilities to train their dogs for retrieving. It is an extremely practical guide to dog training. Pam has an ability not only to train but also explain clearly how to do so. Watching her at hunt tests working her Boykin spaniels I realize how much she is as one with them. She understands their temperaments and does not make excuses for their characters. She is never fooled by them and knows exactly how they think.

Easy to read and understand, this book will help anyone wishing to train his or her spaniel to retrieve. If your dog has a mind of its own, this is the book for you."

Reviewed in Spaniel Journal by William Fawcett


Reader Reviews:

I received and am almost finished with your book...it is great. In addition to my 2 year old Springer I am now going to get an English Cocker Spaniel. Your book is truly superb. I have been looking for something that focuses on retriever training for spaniels who really have a much softer psyche than labs.
Thanks and best regards,
Chip Schleider


Pam,
I was given a copy of your book as a gift I wanted to let you know that I began reading it that evening. It is about time a book such as this was published. I like the book. Good practical training techniques and advice. Thank you for doing it. I am going to recommend it to all my puppy people for training their AWS. I am sure with this book in hand, it will make it easier for owner trainers.
Sincerely,
Mary Kangas - Noma's American Water Spaniels

I bought five copies of Pam's new book to give to puppy people and then had other requests so I just bought four more copies. It's a very good book!!!! I always like to have something to give new puppy people. I have wanted something to give to puppy buyers of my field bred dogs and this is it!
Ellen Lonergan
Alderrun Farm



Spaniels differ in temperament from Labrador Retrievers and require gentler techniques to train them.

Start your pup's hunting life of right with the all the things your "Puppy Must'" learn before six months of age.

Learn how to get results training your spaniel for non-slip retriever work using common sense methods.

Positive Reinforcement and Clicker training for field work is utilized, explaining how to achieve amazing results with your pup.

Forget about time-lines and schedules. You and pup progress at your own rate.

Everything from Puppy Kindergarten to the Conditioned Retrieve to make your spaniel a reliable hunting companion and/or hunt test competitor.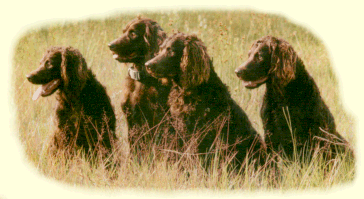 Pamela Owen Kadlec
Pam has owned and trained dogs for over forty years, the past twenty-five years with gun dogs. She fell in love with the compact size, the heart and personality of the Boykin spaniel and has become one of the most respected trainers and breeders of Boykins in the United States.
She is the owner and editor of boykinspaniel.com and trains all breeds of spaniels in non-slip retriever and upland work at Just Ducky Kennel in Edgefield, South Carolina.
Five generations of her Boykin Spaniels have earned UKC/HRC retriever titles starting with HRCH UH Curlee Gurlee, the 3rd Boykin to attain the Hunting Retriever Champion goal. Curlee is also a three-time Boykin Spaniel Society National Open Champion as well as a terrific dove, quail and duck hunting partner.

Check it out:

Table of Contents

Chapter 1 - Overview

Order directly from the Publisher:

Check or money orders (payable to Just Ducky Publishing):
Print an Order form

Send $19.95 plus $5.00 shipping (Priority Mail)- (SC residents add 6% sales tax) per book to:

Just Ducky Publishing
79 Wood Duck Drive
Edgefield, SC 29824

Autographed on request. - Call or write for quantity discounts.

You can also order the book through these websites:
Amazon Fullfilled by author
Dogwise


Just Ducky Publishing
P.O. Box 129 - 79 Wood Duck Drive
Edgefield, SC 29824
pkadlec@justduckypublishing.com
803-637-2007
FAX: 803-637-5825

Copyright 2009 - Web Design by PK
Last updated 1/20/19